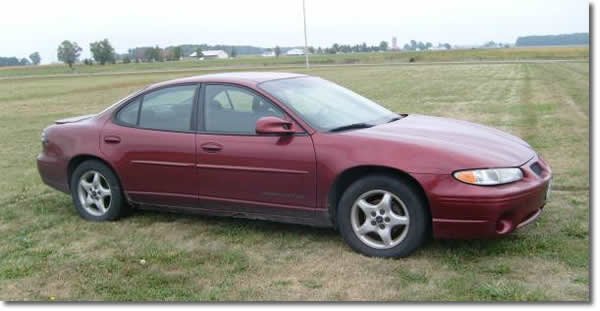 Water doesn't appear to be running through hoses from heater core to radiator.
---
If the coolant system is low or has been recently worked on there may be an air pocket in the system. The cooling system requires a special bleeding procedure to remove all air from the system. If the system is full and bled properly then the water pump may be faulty if the heater core is not clogged.
Checking to see if the heater core is clogged would require disconnecting the hoses. Using a water hose fixed to one side and see if water flows out the other side.
There is one bleed valve on the 3800 engine. It is located on the thermostat housing.
Cooling Cycle
Coolant flows from the radiator outlet and into the water pump inlet. Some coolant flows from the water pump, to the heater core, then back to the water pump. This provides the passenger compartment with heat and defrost capability as the coolant warms up.
Coolant also flows from the water pump outlet and into the engine block. In the engine block, the coolant circulates through the water jackets surrounding the cylinders where it absorbs heat.
The coolant then flows through the cylinder head gasket openings and into the cylinder heads. In the cylinder heads, the coolant flows through the water jackets surrounding the combustion chambers and valve seats, where it absorbs additional heat.
Coolant is also directed to the throttle body. There it circulates through passages in the casting. During initial start up, the coolant assists in warming the throttle body.
From the cylinder heads, the coolant flows to the thermostat. The flow of coolant will either be stopped at the thermostat until the engine reaches normal operating temperature, or it will flow through the thermostat and into the radiator where it is cooled. At this point, the coolant flow cycle is completed.
Efficient operation of the cooling system requires proper functioning of all cooling system components. The cooling system consists of the following components.
Water Pump
The water pump is a centrifugal vane impeller type pump. The pump consists of a housing with coolant inlet and outlet passages and an impeller. The impeller is mounted on the pump shaft and consists of a series of flat or curved blades or vanes on a flat plate. When the impeller rotates, the coolant between the vanes is thrown outward by centrifugal force.
The impeller shaft is supported by one or more sealed bearings. The sealed bearings never need to be lubricated. Grease cannot leak out, dirt and water cannot get in as long as the seal is not damaged or worn.
The purpose of the water pump is to circulate coolant throughout the cooling system. The water pump is driven by the crankshaft via the drive belt.