I have been throwing parts at this car trying to fix it. It started with multiple check engine codes P0300 and a few more P03XX ones I cannot remember. But they all had to do with misfire. I replaced the plugs and the coil pack. While replacing the plugs, #5 cylinders plug was missing the tip of the plug so I know it was not firing. After replacing the parts it ran great but code P0300 came back. Checked for vacuum leaks, tested all the injectors and found one that may have been weak. Then I replaced the upper intake manifold and all the injectors along with the EGR Valve, Mass Air Flow, EGR Vacuum Solenoid, and the Cam Sensor. I figured I would have got it with all that but nope.
I now get P0402 and still P0300 so now I am thinking I will go ahead and replace the Camshaft Synchronizer and the crank sensor. Not sure what else I could be missing but I am willing to try anything at this point. If anyone has any other ideas, I am going to pull the plugs and recheck them along with the plug wires. I have rechecked the wiring positions and they are in the correct order.
---
In my experience with code P0402 you will need to replace 3 components. The EGR, EGR Regulator and DPF (Differential Pressure Feedback) EGR valves. You will also want to remove the valve tubes and make sure all are clean and clear of obstruction. Do the same for the ports they connect to. As for the Po300 misfire code should clear up once you take care of the EGR issues.
Exhaust Gas Recirculation (
EGR

) System Components — Exploded View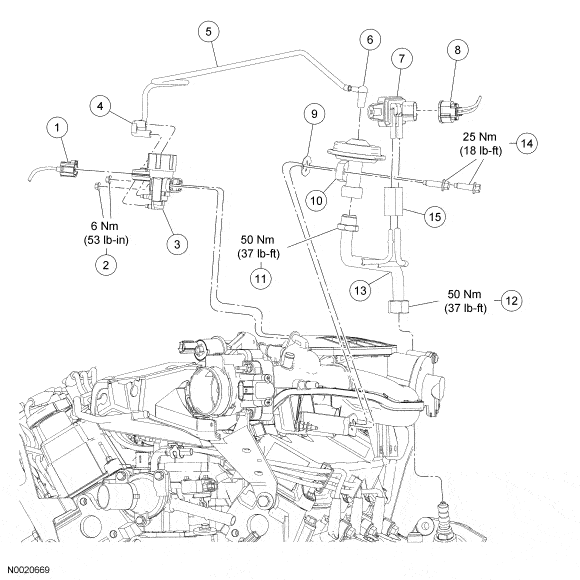 | Item | Part Number | Description |
| --- | --- | --- |
| 1 | 14A464 | Exhaust gas recirculation (EGR) vacuum regulator valve electrical connector |
| 2 | N620479 | EGR vacuum regulator valve nuts (2 required) |
| 3 | 9J489C | EGR vacuum regulator valve |
| 4 | — | Vacuum tube connector-to-EGR vacuum regulator valve (part of 9E498) |
| 5 | 9E498 | EGR vacuum tube |
| 6 | — | Vacuum tube connector-to-EGR valve (part of 9E498) |
| 7 | 9E444A | Differential pressure feedback EGR sensor |
| 8 | 14A464 | Differential pressure feedback EGR sensor electrical connector |
| 9 | 9D476B | EGR valve gasket |
| 10 | 9E444A | EGR valve |
| 11 | — | Exhaust manifold-to-EGR valve tube fitting (part of 9D477E) |
| 12 | — | Exhaust manifold-to-EGR valve tube nut (part of 9D477E) |
| 13 | 9D477E | Exhaust manifold-to-EGR valve tube |
| 14 | W500224 | EGR valve bolts (2 required) |
| 15 | 9P761A | Differential pressure feedback EGR sensor vacuum hoses (2 required) |
Ford Code P0402
Code P0402 Description: Exhaust Gas Recirculation Flow Excessive Detected
Code P0402 Possible Causes
Sensor or solenoid faulty
Connector terminal contact is damaged or corroded
Wire harness – Check harness for correct voltage, open, short to ground or short to voltage
Update control unit software – Check for the latest control unit update
Powertrain or Engine Control Module faulty
Exhaust leaks or restrictions
EGR components clogged, dirty or leaky
EGR valve damaged/defective