Hub Bearing Testing 2002 Toyota Prius
Had a vibration in left front wheel. It was loose lug nuts. Fixed that. Vibration/knocking has returned. Only happens when I let off accelerator, but goes away if I brake. Also after turning left the steering wheel slightly catches when turning back to the right. Going to try to fix at home as funds are tight. Just not sure where to start.
---
Hub Bearing Testing
First of all it might be good to note what might have caused the front lug nuts to come loose. Second, what might have been under stress while driving it around with the vibration. From what you have stated and knowing the common causes for this issue I would start by looking at the front hub bearings. If it turns out there is play in the bearing it will need to be replaced. This requires removal of the entire steering knuckle and having the hub  and bearings removed and installed with a press.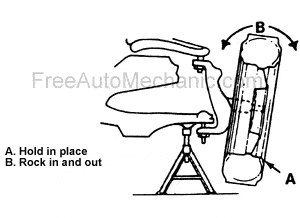 Front Hub Removal – 2002 Toyota Prius
2002-toyota-prius-front-hub-disassembly