I have a service stabilitrak and service traction control on on board warnings….Also some loss of power and the check engine light blinks from time to time.
---
Service StabiliTrak
If your vehicle has Electronic Stability Control (ESC), this message displays if there has been a problem detected with ESC. The ESC/TCS light also appears on the instrument panel cluster.
If this message turns on while you are driving, pull off the road as soon as possible and stop carefully. Try resetting the system by turning the ignition off and then back on. If this message still stays on or turns back on again while you are driving, your vehicle needs service. Have the system inspected by your dealer/retailer as soon as possible.
Electronic Stability Control Indicator Light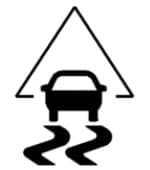 This light comes on briefly while the engine is started. If it does not, have the vehicle serviced by your dealer/retailer. If the system is working normally the indicator light will then go off.
This light can come on after the vehicle is first driven and the STABILITRAK NOT READY message appears in the Driver Information Center (DIC).
If the light stays on, or comes on while driving a SERVICE STABILITRAK message appears in the DIC. This indicates that there may be a problem with the Electronic Stability Control (ESC) system and the vehicle may need service. When this warning light is on and the SERVICE STABILITRAK message appears on the DIC, the ESC system does not assist in controlling the vehicle.
When the system is active, the light flashes while the system is assisting in controlling the vehicle.