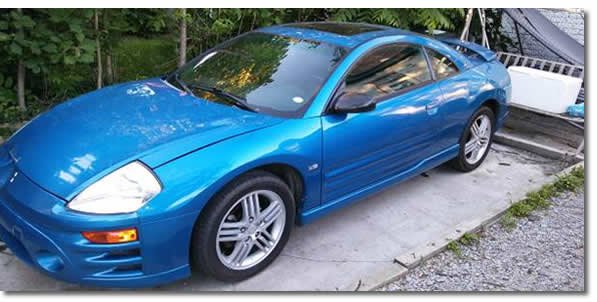 I have 2 plastic hooks or something similar that hold the fuel rail in place and currently one of the 2 hooks broke off, would that cause my cars engine to bog down and nearly die when I'm braking and slowing down if the fuel rail moves?
---
---
No. If the fuel rail were to move enough to do something you would notice fuel spraying all over under the hood and leaking onto the ground. Not to mention the ability to smell raw gas.
Fuel Pressure Relief
Before any fuel system service can be performed, pressure in the fuel system must be released to prevent personal injury or damage to the vehicle.
Diamante & Mirage
| | |
| --- | --- |
| 1. | Raise rear seat cushion. |
| | |
| --- | --- |
| 2. | Disconnect body and fuel wiring harnesses under floor carpet. |
| | |
| --- | --- |
| 3. | Start engine and let run it until it stalls. |
| | |
| --- | --- |
| 4. | Turn ignition switch to OFF position. |
| | |
| --- | --- |
| 5. | Connect wiring harnesses and install rear seat cushion. |
Eclipse & Galant
| | |
| --- | --- |
| 1. | Disconnect fuel pump relay. |
| | |
| --- | --- |
| 2. | Start engine and let run it until it stalls. |
| | |
| --- | --- |
| 3. | Turn ignition switch to OFF position. |
| | |
| --- | --- |
| 4. | Connect fuel pump relay. |
Lancer
| | |
| --- | --- |
| 1. | Remove rear seat and fuel pump protector. |
| | |
| --- | --- |
| 2. | Disconnect fuel pump module electrical connector. |
| | |
| --- | --- |
| 3. | Start engine and let run it until it stalls. |
| | |
| --- | --- |
| 4. | Turn ignition switch to OFF position. |
| | |
| --- | --- |
| 5. | Connect fuel pump module electrical connector, then install protector and rear seat . |
Montero
| | |
| --- | --- |
| 1. | Turn ignition switch to LOCK position. |
| | |
| --- | --- |
| 3. | Remove upper and lower service hole covers and packing. |
| | |
| --- | --- |
| 4. | Disconnect fuel pump module connector. |
| | |
| --- | --- |
| 5. | Start engine and let run it until it stalls. |
| | |
| --- | --- |
| 6. | Turn ignition switch to OFF position. |
| | |
| --- | --- |
| 7. | Connect fuel pump module electrical connector. |
Montero Sport
| | |
| --- | --- |
| 1. | Disconnect fuel pump relay. |
| | |
| --- | --- |
| 2. | Start engine and let run it until it stalls. |
| | |
| --- | --- |
| 3. | Turn ignition switch to OFF position. |
| | |
| --- | --- |
| 4. | Connect fuel pump relay. |
Outlander
| | |
| --- | --- |
| 1. | Remove rear seat and fuel pump protector. |
| | |
| --- | --- |
| 2. | Disconnect fuel pump module electrical connector. |
| | |
| --- | --- |
| 3. | Start engine and let run it until it stalls. |
| | |
| --- | --- |
| 4. | Turn ignition switch to OFF position. |
| | |
| --- | --- |
| 5. | Connect fuel pump module electrical connector, then install protector and rear seat . |