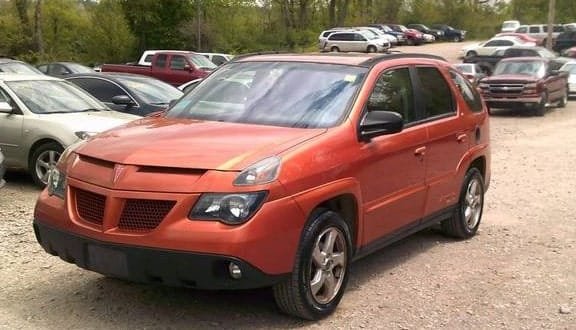 How to replace rear wheel hub bearing on Pontiac Aztek with disc brakes?
---
---
This repair will be similar for the Aztek, Rendezvous, Venture, Montana, Alero and Grand Am
Rear Wheel Hub Bearing Replacement
Rear
All Wheel Drive
Raise and support vehicle, then remove tire and wheel assembly.
Release parking brake and remove brake caliper.
Remove brake caliper bracket and brake rotor.
Disconnect wheel speed sensor electrical connector, then remove speed sensor connector from connector bracket.
Separate driveshaft from wheel hub and bearing.
Remove and discard wheel bearing and hub assembly bolts.
Remove wheel hub and bearing assembly.
Reverse procedure to install. Replace wheel hub and bearing assembly attaching bolts anytime bolts are loosened or removed. Failure to replace bolts may cause loss of vehicle control.