Automatic Transmission Trouble Shooting Basics
1) First thing to do, no matter the issue, is to check the transmission fluid
The transmission is slipping: odds are the fluid level is low and topping the fluid level off will take care of the immediate issue(you'll still want to find out what happened to the missing fluid.
The transmission fluid is Dark and smells burnt: At this point if the transmission is shifting ok, a fluid and filter change is in order. If the transmission is causing you an issue and the level is full but still burnt looking you are looking at needing a rebuild. The dark color comes from the worn clutches inside the transmission. The clutch material is similar to that of brake pads and when they wear the leave dust similar to brake dust collecting on your wheels.
Transmission Temp Gauge
Transmission Temperature
Transmission Servicing and Electronic Diagnosis Manual
Transmission won't shift, No reverse, Stuck in Gear, No Overdrive:
These transmission problems can be caused by severe internal damage, a failed shift solenoid, failed sensor or a transmission computer module failure. Sometimes a simple software update is all that's needed to cure the shifting issues, fortunately the the check engine light comes on when there is an issue giving you a P0700 code that tells the technician that there is a transmission code present. At this point the technician can scan the transmission codes that will help diagnose the issue.
No Reverse or No Overdrive: In most cases a solenoid has failed and needs to be replaced. The solenoids can be accessed by removing the transmission pan and filter. Usually a couple of bolts and one electrical plug and you can remove the solenoid...and no, there won't be a bunch of springs jumping out at you.
Internal Transmission Damage: In most cases when the transmission pan is removed there will be quite a bit of small metal fragments apparent in the bottom of the pan and trapped to the magnet stuck tot the bottom of the pan. You are in for a rebuild and some hard parts.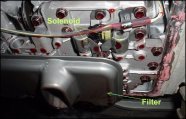 Transmission Pan Removed