The most common reason for your vehicle to not have heat is caused by being low on coolant in the radiator, this is assuming the blower motor is blowing air out the dash and that is is just not hot. I like to check the Heater hoses first to see if they are even hot.
Plumbing
The cooling system in most cars have a lot of plumbing. We'll start at the pump and work through the system. In the next sections we'll get into more detail about each part of the cooling system. >
The pump sends the fluid into the engine block, where it makes its way through passages in the engine around the cylinders. Then it returns through the cylinder head of the engine. The thermostat is located where the fluid leaves the engine. The plumbing around the thermostat sends the fluid back to the pump directly if the thermostat is closed. If it is open, the fluid goes through the radiator first and then back to the pump.
There is also a separate circuit for the heating system. This circuit takes fluid from the cylinder head and passes it through a heater core and then back to the pump. On some cars there is a heater control valve that opens up to allow the fluid to flow when the temperature is set to hot.
Cooling Syatem Flow Chart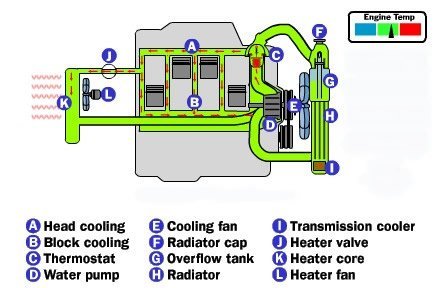 On cars with automatic transmissions, there is normally also a separate circuit for cooling the transmission fluid built into the radiator. The oil from the transmission is pumped by the transmission through a second heat exchanger inside the radiator.
Find an
auto repair manual
for your car - Get instant access to your vehicles drive belt routing, complete wiring diagrams, trouble code information and other available updates and factory bulletins.