The most common reason for your vehicle to not have heat is caused by being low on coolant in the radiator, this is assuming the blower motor is blowing air out the dash and that is is just not hot. I like to check the Heater hoses first to see if they are even hot.
Radiator Cap
Cutaway of radiator cap and reservoir


When the fluid in the cooling system heats up, it expands, causing the pressure to build up. The cap is the only place where this pressure can escape, so the setting of the spring on the cap determines the maximum pressure in the cooling system. When the pressure reaches 15 psi, the pressure pushes the valve open, allowing coolant to escape from the cooling system. This coolant flows through the overflow tube into the bottom of the overflow tank. This arrangement keeps air out of the system. When the radiator cools back down, a vacuum is created in the cooling system that pulls open another spring loaded valve, sucking water back in from the bottom of the overflow tank to replace the water that was expelled.
Cooling Syatem Flow Chart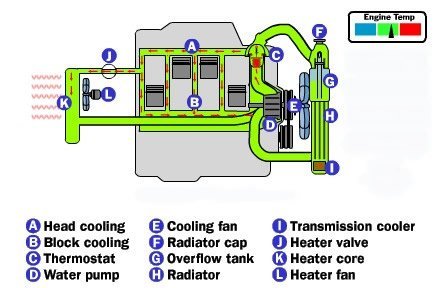 On cars with automatic transmissions, there is normally also a separate circuit for cooling the transmission fluid built into the radiator. The oil from the transmission is pumped by the transmission through a second heat exchanger inside the radiator.
Find a repair manual for your car - Get instant access to your vehicles drive belt routing, complete wiring diagrams, trouble code information and other available updates and factory bulletins.
FIND OUT MORE
.